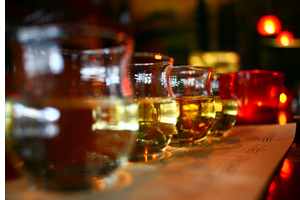 OUR MIXOLOGY BARTENDING SCHOOL
Over 20 years in San Diego!
Since 1983, Professional Bartenders school in N. County San Diego has graduated and placed thousands of students on the path to bartender careers. Our  bartending/mixology course trains students with hands on training in drink making, cocktail preparation techniques, bar-related tools/condiments, customer service, employment seeking, opening/closing a bar, party bartending and all aspects to needed to certify for bartending skills.
Our School is a classroom setting with a real-life working bar for hands-on-experience. Our classroom bar is stocked with actual bottles, 5 stations with 10 sinks, bar utensils, state-of-the-art soda/juice guns, bar condiments, varying type glasses, garnishes, and bar racks for students to practice drink preparation training
Upon completion of the course students will receive their Certificate.
You only have to be 18 years old to take the course but you must be 21 to work as a Bartender in California. Other than that there is no educational requirement or other requirements necessary to take the course.
Professional Bartender mixology bartending school offers free lifetime refresher courses at no charge for all our graduates. Students of all ages are graduates with full and part-time bartender jobs in the hospitality industry.
Come join the fun and start your bartender/mixologist career today.
San Diego Callers: (619) 884-8124
North County Callers: (760) 471-5500